Floating Apps for Auto!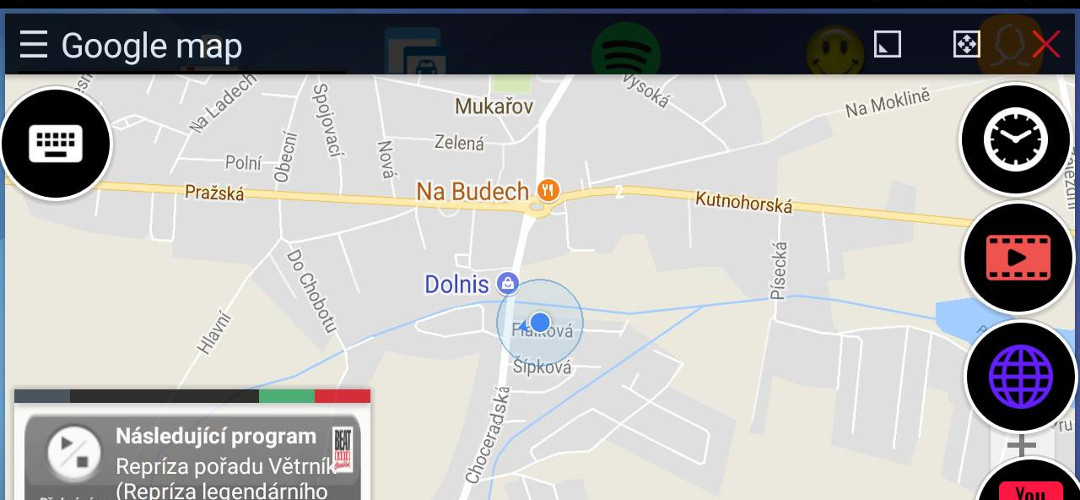 NOTE: Full MirrorLink on Samsung phones with Android 10 is a bit different!
Floating Apps for Auto is a new version of Floating Apps specially adapted for use with MirrorLink infotainments in your car. It's based on the full version and comes with all its features but there are a few changes:
Larger spacing between header icons because infotainments are not as comfortable as phones' or tablets' displays and some of them even don't use capacitive sensors but resistive ones which makes taps less precise.
Larger icons in the floating Applications, so it's easier to start the correct app.
The maximize icon in the window header is enabled by default as it allows to easily use the full screen of the infotainment.
The floating keyboard allows typing texts into the floating windows even if the car is moving which is not possible with the normal keyboard (it's hidden when the car is moving faster than around 5-6 km/h).
Some apps that don't make sense in the car are hidden by default.
And how it works?
Well, the MirrorLink technology is very limited and allows only certified apps to be used on the infotainment in the car. However, Floating Apps can float even over these apps and so it's shown on infotainment's screen. You just need to connect your phone to your car and start any certified app and voála, Floating Apps is also available.
See it in action!
Warning!
Of course, the MirrorLink technology is limited to prevent drivers from using apps while driving. However, this is not always the case – they can be used by a front passenger or when the car is not moving. Imposing restrictions is not always the best thing to do.
However, the typical warning applies here as well: Do not attempt to use Floating Apps while driving. Failure to pay full attention to the operation of your vehicle could result in death, serious injury or property damage. Floating Apps can be used only while not driving or by a front passenger.