Getting started using Floating Menu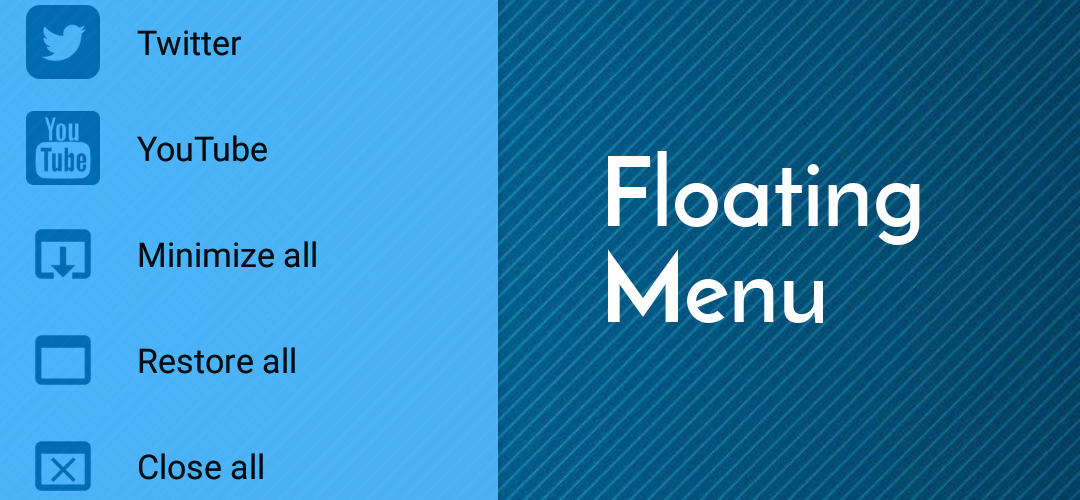 Floating Apps has been developed to make multitasking easier and convenient. The app offers an exciting feature, called 'Floating Menu'. It allows you to use the floating features without opening the application every time.
By default, the menu can be opened by swiping from left most of the screen to right. It mainly consists of applications that you want to run in parallel.  The interesting part is that the menu is modifiable. You are allowed to change the order, add or remove apps and even change the color, position and opening way of the menu.
How to Configure the Floating Menu
In order to configure the Floating Menu, you have to tap the 'Floating Menu' option from the side menu.
Items Tab
You can see the applications and functions that will be shown in the floating menu.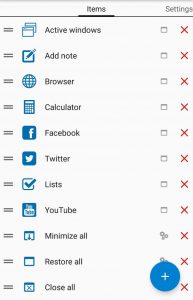 To remove a particular item from the menu, you have to tap the red cross.

To add an application or function, you have to tap the + Button at the bottom right. A list will appear on the screen from which you can choose what options you want to add in the floating menu.

To change the order of any option in the Floating Menu, you can tap the '=' icon on the left of the option and swipe it to the top or bottom to change its position.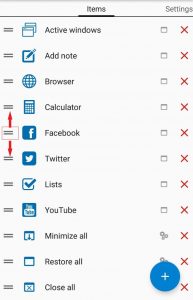 You will observe that there is an icon on the right of the option before the red cross. If it is an icon of a window, it indicates that it is the built-in floating app option. Further, if it is an icon of android, it indicates that it is the application installed on your phone. The setting icon indicates that is a function.

Settings Tab
It consists of the settings for the Floating Menu.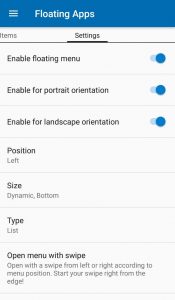 The option 'Enable Floating Menu' is to choose if you want to keep it enabled or not.

The next two options are for enabling or disabling the menu in a particular screen orientation, be it portrait or landscape.

You can select the position (Left or Right) for the menu.

You can select the size of the menu where you can change it to full size, dynamic from top, center or bottom.

You can select the type of the menu, whether you want to see in the form of a list or grid.

You can select whether you want to open the floating menu through swipe, menu button or externally.

To change the appearance of the menu, you can select a different background color, Text color, Icon color and modify the opacity.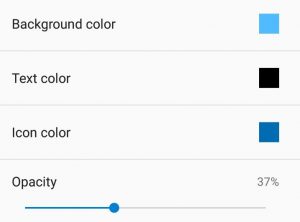 The 'Preview' option is to check the changes made to the floating menu.

The Floating Menu feature provides convenience to the user by making the multitasking easier. We have tried to provide maximum customization to this exciting feature for the user.
Keep floating your apps with Floating Apps and make your life easy and hassle-free 😉