Google Maps and Waze with Floating Apps for Auto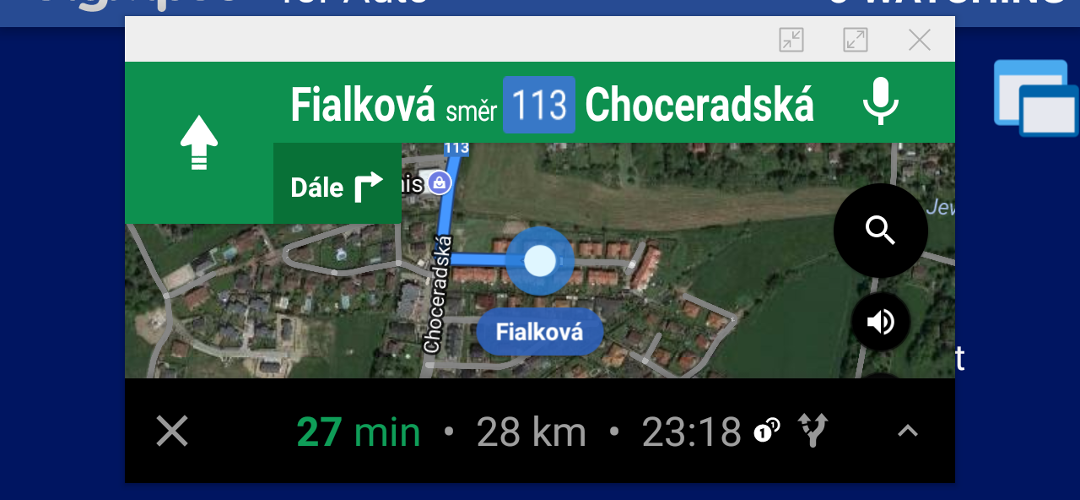 NOTE: Full MirrorLink on Samsung phones with Android 10 is a bit different!
As the first thing, it's important to mention that this is not an official way and may not work in your car or on your phone. It's a hack that is tested mainly with Samsung phones, and they have a bit different support of the freeform mode.
Since the freeform mode is a part of the Android and not Floating Apps, we are unable to change how it works, and there is no way how we can fix possible problems on your device. It's also possible that everything will work on your device smoothly but not over MirrorLink.
Prepare your device…
You will need MirrorLink 1.1 enabled phone with, at least, two MirrorLink certified apps installed (eq. RockScout, Glympse for Auto, Sygic Car Navigation, …) and Floating Apps for Auto. Your phone must run Android 7 or later.
You also need to follow Float normal apps guide to enable freeform mode on your device. You should be able to run normal installed apps in floating windows.
Apply it to Google Maps, so Floating Apps will store your preferred choice. Just open the dashboard by tapping floating icon and scroll to Launcher tab. Now tap and hold on Google Maps until the dialog with options is shown. Select Start in a large window, and you should see something like in the screenshot below – Google Maps are shown in a floating window.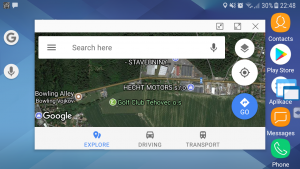 It means that everything is prepared on your device.
Google Maps…
Now, kill all running apps by swiping them out of recent apps, connect your phone to your car with a USB cable, start the MirrorLink connection and then launch any of certified apps.
Tap the floating icon and scroll to Launcher tab and repeat the same process as described above to open Google Maps in a floating window. Now, you should have Google Maps displayed over the certified app.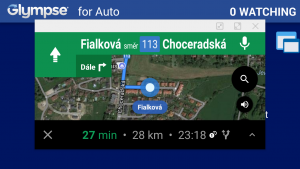 Please understand that this is not a window created by Floating Apps but rather a "second screen" and there are some related limitations. First, you can't maximize the window since it would disappear or break the MirrorLink connection. Second, not all features may be available. You should be able to use it almost with no limitations, and almost everything is working well but, for example, Sharing my location is not.
Also, it's important to notice that when you use voice (turn-by-turn) navigation, it's going to silence FM radio, so it's better to use it with RockScout, Spotify or listen to the internet radio with Floating Apps.
You can combine Google Maps with any of available floating apps ;-).
Waze…
Unfortunately, Waze is somehow less compatible with running in a window as some critical data may be missing when not running in the fullscreen mode.
Add Waze into the floating menu, so it's easily available anywhere and be sure that all apps are killed by swiping them out of the recent apps.
Now, connect your phone to your car with a USB cable, start the MirrorLink connection and then launch any of certified apps (RockScout is strongly recommended; turn on an online radio or Spotify so the connection is kept opened).
Open the floating menu and double-tap on Waze. The Waze window should pop up in about 3 seconds and gradually load all the necessary information in the next few seconds. If this doesn't happen, you can repeat double-tapping or single-tapping until the window is shown. If it still doesn't work, return to the list of certified apps, exit the running certified app and run another one (do not use LG MirrorDrive). When the second certified app is up and running, open the floating menu and tap the Waze. Waze should be shown now over the certified app now.
However, Waze window is less stable and may have problems with keyboard and data entry. Waze may disappear sometimes and it's necessary to repeat the process described above with another certified app (exiting current one, launching another one and then reactivating Waze via the floating menu).
In some cases, not all features are available. For example, voice search may be inaccessible, and it's necessary to use the keyboard for entering a destination.
You can also experiment with starting Waze and entering destination before connecting your phone to the car (just kill all other apps except for Waze before connecting via MirrorLink).
And of course, you can combine Waze with any of available floating apps ;-).
I'm being sent to the list of certified apps…
On some infotainments (seen on the latest ones), MirrorLink may send you to the list of certified apps when you try to open a normal app with the freeform mode. Fortunately, there is no need to panic as the 1:1 button or running the same certified app again will bring you back with the normal app running well.
The same thing as described above can also happen when manipulating with the window (moving, changing its size, entering data, etc.). It should always be possible to return to the MirrorLink screen and continue without problems.
Your car is fighting you…
It's possible that the infotainment on your car will hide all uncertified apps when the car start moving. If this happens, the only option is to unlock VIM (Video in Motion) for MirrorLink. Unfortunately, this is a limitation that can't be overcome by any other way.
What about other apps?
Similar process as described for Google Maps should work for almost any other installed app. Waze is an exception that just doesn't play well with floating windows, but other apps are usually working with no extra effort.
Did you try to run Google Maps, Waze or any other app on the infotainment of your car? Let us know if you were successful or not.