Floating Apps for Auto Q&A: Using floating apps in your car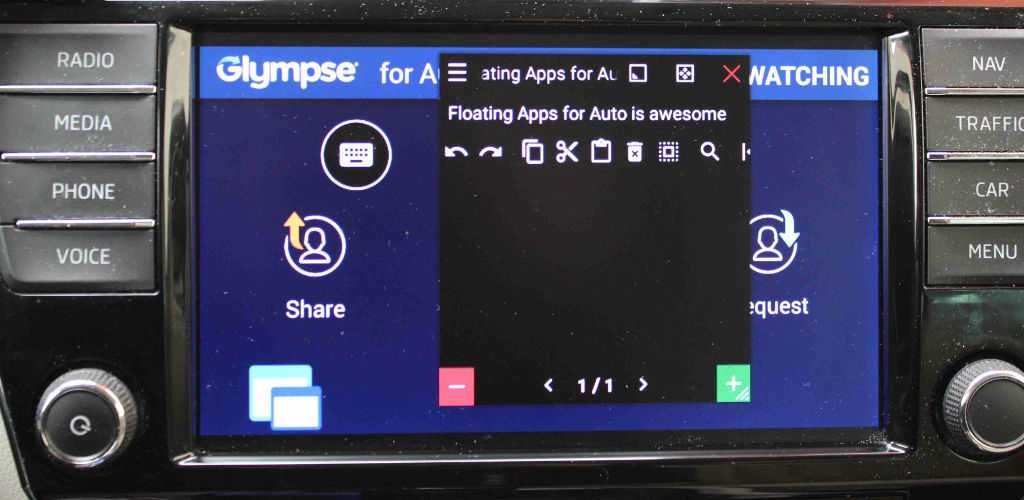 NOTE: Full MirrorLink on Samsung phones with Android 10 is a bit different!

How can I start installed apps using Launcher? It works on the phone but not in the car.
Floating Apps for Auto is a special version of normal Floating Apps and comes with all features so that it can be used in the car as well as on the phone only. Floating Launcher was initially developed to allow launching installed apps on the phone and not in the car. Usually, launching an installed app breaks MirrorLink connection or show the app only on the phone's screen and not on connected radio/infotainment. Only built-in floating mini-apps are fully supported over MirrorLink.
However, if you have Android 7.0 or newer, you can activate the free-form mode and launch installed apps in windows, and then, it is, to some extent, possible to show them over MirrorLink too! Please refer to the next question for more information.
---
How can I use installed apps in my car? Is the freeform mode going to help me somehow?
The freeform mode is a hidden feature available from Android 7.0. It's a part of the Android operating system but is not accessible by default. Floating Apps for Auto helps you to activate and use it. However, it's not a feature provided by Floating Apps, so it not be available on your phone or may behave differently. Also, some vendors alter this functionality.
The freeform mode allows to show normal installed apps in windows and open more apps at the same time. On some devices, like Samsung phones, this can help to use normal apps with MirrorLink as it's possible to have the certified app launched along with other non-certified apps. We've successfully tested Google Maps, Gmail, K-9 email client and Waze to some extent. However some apps can't be used this way, and for some apps, this technology is not stable enough to use them correctly. Feel free to experiment with it and let us know your experience.
There are also some limitations of this technology. Read freeform mode questions & answers and 7 cons of the free-form mode for more information.
---
I'm missing turn-by-turn navigation. Is it planned?
Developing full-featured turn-by-turn navigation is a too complex task to be just a one floating app. Also, floating technology is limited, and this app could be too heavy for it to work stably.
However, it's possible to use Google Maps or Waze with the freeform mode to some extent.
---
Does Floating Apps for Auto support fullMirrorLink?
Floating Apps for Auto doesn't enable fullMirrorLink but allows to use more than 40 built-in floating apps on any phone and any radio/infotainment. You can also create your floating apps from widgets and URL addresses.
Also, there is an option to use installed apps with the freeform mode as described in previous answers.
---
I used to use LG MirrorDrive for fullMirrorLink, but after updating my phone to Android 7.0, it no longer works. Does Floating Apps for Auto works on Android 7 and does it allow fullMirrorLink like LG MirrorDrive?
Floating Apps for Auto is supported on Android from 4.1.2 to 8.1, and it is going to work on newer versions too.
Floating Apps for Auto doesn't allow fullMirrorLink. Please refer to the previous answer.
---
I have a problem with YouTube and video player – audio is not synchronized with the video. How to fix it?
MirrorLink as a communication protocol hasn't been designed for transferring video. It's not supposed to be used for such apps and for this reason, it uses low framerate that is only about 15 to 20 frames per second. To prevent screen flickering with low framerate, each frame is rendered multiple times. This can lead to desynchronization of audio and video on some radios/infotainments.
Unfortunately, there is no way how to fix it since it's not a bug in the app nor the phone but a limitation of the MirrorLink technology.
---
I would like to play videos in my car. Is it possible with Floating Apps for Auto?
Yes! Floating Apps for Auto comes with video player based on VLC, YouTube player and it's also possible to play video streaming using the floating browser. With the floating player, it's possible to play videos from SD card.
You should focus on driving and not to watch videos! However, it's amazing for the passengers ;-).
---
Does Floating Apps for Auto require the internet connection?
No, internet connection is not required for the app to work correctly. However, you can't use the floating browser, YouTube, Facebook and other apps that need internet connection to work correctly.
Without the internet connection, you can still use apps like video player, audio player, audio recorder, image viewer, calculator, etc.
---
YouTube and video streaming are working correctly, but video or audio is getting stuck or is slow sometimes. Why?
This may be caused by insufficient internet connection. Remote SIM card mode (RSAP) may help signifficantly if supported by your car and phone as the external antenna provides better signal quality.
Also, be sure to use a high-quality USB cable as it's critical for stable MirrorLink connection.