Complete Guide: How to use Floating Apps for Auto in your car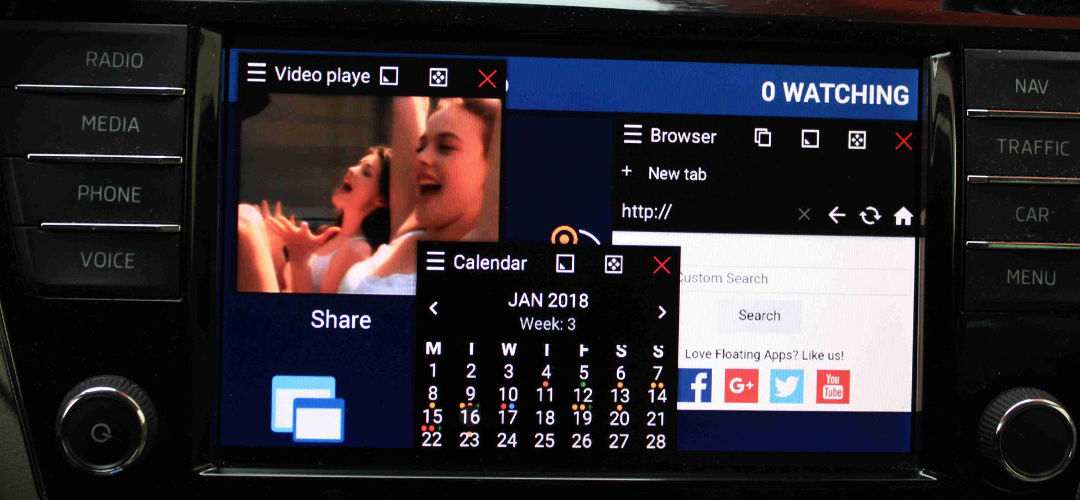 NOTE: Full MirrorLink on Samsung phones with Android 10 is a bit different!
Thanks for buying Floating Apps for Auto! Let us guide you through the process of connecting it to your car and using it on the infotainment over MirrorLink technology.
Introduction…
First, it's essential that MirrorLink is supported both by your car and your phone.
Second, you need some MirrorLink certified app to be installed. There are many of them like Glympse for Auto, RockScout, Škoda One App, Parkopedia or paid apps like Sygic Car Navigation or BringGo. You can also use any one you have already installed on your phone. The important thing is to have at least one certified app.
After downloading and installing Floating Apps for Auto, please be sure to complete initial tutorial and grant the app all required permissions. Unfortunately, it's not possible to grant permissions when the phone is connected with MirrorLink (as the permission dialog is not shown on the infotainment's screen) and for this reason, Floating Apps for Auto asks for all permissions when used for the first time.
Also, you should be aware of warning and read it carefully. It's not safe to use Floating Apps for Auto while driving! Please don't do it.
After finishing the tutorial, you should see a little icon to be floating over all other apps in the left top corner of your screen. This is called the floating icon, and you will be able to access floating apps by taping it. It will be available on the infotainment's screen and will be shown over the running certified app.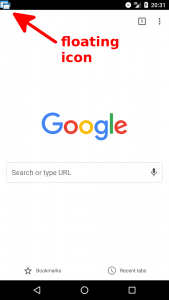 In the main app, you can see a list of all available floating apps. All of them can be used in your car, but some are hidden from the floating icon by default because they don't make much sense in the car. Be aware that some apps may contain functions that are not supported with MirrorLink like sharing into other apps, etc. Such apps contain information about it in their settings.
Floating Apps for Auto is not limited to MirrorLink only, and you can use any of available features including hidden ones on your phone too! Floating Apps is normally used in phones and tablets, and Floating Apps for Auto is just a special version adapted for your car. If you like the multitasking, just use it anywhere and anytime – on your phone and in your car.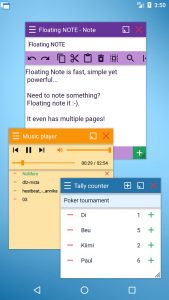 Floating Apps has a lot of features and settings, and we recommend you to explore Settings, Themes and Floating Menu to adapt the app for your needs.
Let's get connected…
Now, you can connect your phone to your car with USB cable. On the infotainment select MirrorLink and start any certified app. If you don't want to actually use it, you can start some lightweight one. We recommend Glympse for Auto.
When the certified app finishes launching and is shown on the infotainment's screen, you should also see the floating icon.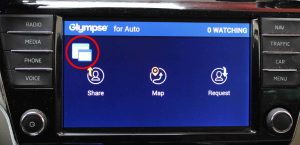 Just tap the floating icon to access a list of floating apps and launch the desired one. It will be opened in the floating window and will be shown over the certified app. You can move it, resize it, minimize it or close it.
You can also access extra features by opening the window menu by taping the icon in the top left corner of the window. There are useful features like saving current position and size of the window.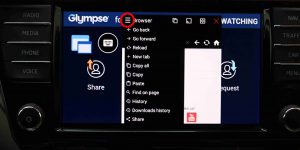 You can launch more apps at the same time and arrange them on the infotainment's screen as you need.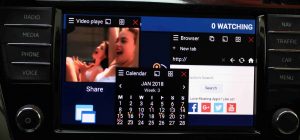 Now, you can use Floating Apps for Auto in your car!
But wait, I need to type texts…
All these things sound great but many of these apps rely on having the keyboard available and on the majority of cars, the keyboard is automatically hidden when a car is moving. Well, Floating Apps for Auto comes with its own keyboard that can be opened anytime! When there is some window with a text field opened, a floating keyboard icon is automatically shown. Just tap it to open the floating keyboard.
As an addition to typing texts, the floating keyboard also supports speech-to-text feature! Just open the keyboard and tap the microphone key and start speaking…
As you can see, there is nothing that could prevent you from using Floating Apps for Auto in your car! Enjoy the new dimension of the MirrorLink experience.
Please note: This keyboard is a part of Floating Apps for Auto and it cannot be used with other apps.
The app is supported and actively developed!
We are working on more features, and hopefully, we will be able to launch Waze, Google Maps or other navigations in floating windows over MirrorLink too! It would be awesome; what do you think?
Just wish us luck and stay in touch ;-).