How to use the new Floating YouTube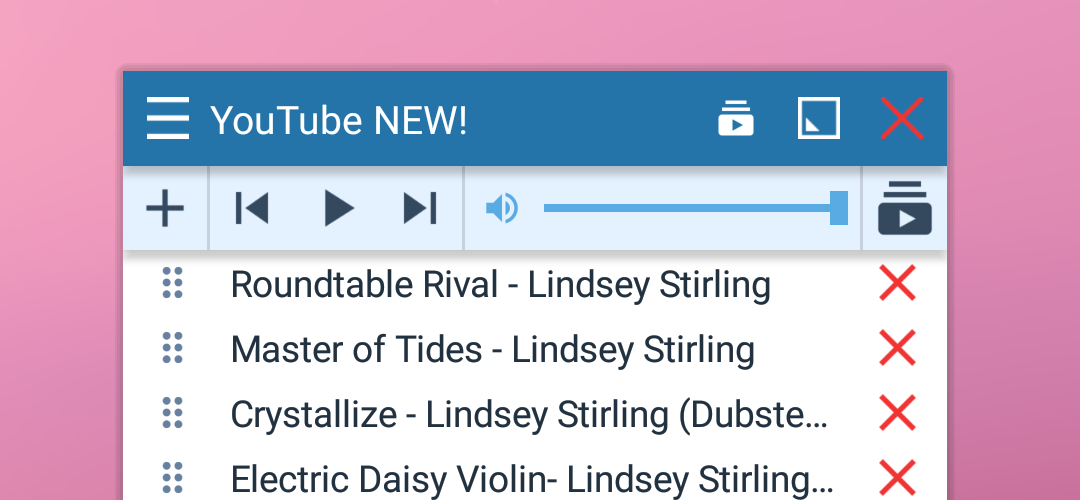 We received a few emails from you asking us for a guide for the new floating YouTube app. So, here it goes!
The app may be a bit unfamiliar when used for the first time. It's no longer just a YouTube site with its typical appearance and functionality. It's a list of your favorite videos now, and you can access them easily, play them randomly, etc.
So, how to use it:
1. Open the app and start by clicking on the plus button in the left top corner. You can choose whether to add video by selecting it on the YouTube site or by inserting URL manually. The most common is to select the video using the YouTube site – let's use this way.
2. A dialog with the YouTube popups and you can use it to find and even play videos. Three buttons on the top are important:
the first one with the arrow allows you to navigate through the YouTube (go back)
the second one – the plus button – allows adding the current video to your list
the last one – the list with plus button – will add all videos recognized on the page. It can add related videos as well as the whole playlists.
3. When any of plus buttons is clicked, the app needs a while to download data from YouTube, and then the video(s) is added to your list. You can repeat the same process to add more videos – to build your playlist.
4. Now, tap any of the videos in the playlist to play it. You have all functions of YouTube available including quality settings, etc. When the video is finished, the app automatically starts playing the next one on your list. You can return to the list by clicking the play icon in the app's title bar.
5. Don't forget to explore options for controlling playback and volume available on the list's toolbar and options available in the window menu. You can create more playlists and save them, or you can play videos in random order, etc.
Do you like the new floating YouTube app?